Speed and Agility: Streaming Media in the Time of COVID and the Year of OTT
A lot has changed in a few short months. COVID-19 has accelerated the OTT industry by nearly eight years in terms of tech, workflows and content demand, according to BritBox's Group Director SVOD, ITV and SVP Creative Head, Reemah Sakaan.
Sakaan recently told an audience during a live webinar, which also featured Applicaster, titled How to Succeed in OTT, that she has seen these exponential increases across the streaming landscape in just eight weeks.
There has been a quantum leap in terms of how we deliver, manage and even create streaming content as a way of keeping up and growing with hyper-engaged audiences.
This piece will examine how much the pandemic altered consumer consumption habits and the growth opportunities that have risen as a result.
The "stay-put" audience streams more video
In early March much of the country was issued "stay-put" directives, which immediately had an impact on media consumption habits. Almost right off the bat 85% (1) of Americans said their at home TV and movie watching had increased. And video streaming on set top platforms (Disney+, Hulu, Netflix, Amazon Prime) jumped by 64%(2).
It quickly became apparent the direction the industry was heading.
Growth in box/ stick OTT streaming was up 58% in the second half of March vs. first half of the month (Statista)
Subscribers new to streaming services increased 50% (comScore)

Growth in connected TV & OTT streaming streaming was up 37% in the second half of March vs. first half of month (comScore)
Growth in free on-demand video streaming rose 25% (AT&T, DIRECTV)
For media companies, reaching those viewers became a key driver in adapting strategies to support this burgeoning market. As a result we are seeing a push to fill that demand whether it's adding connected TV, adding platforms or mining back catalogues to satiate increasing demand.
Streaming steaming forward
These numbers have continued to intensify to this day as users are adopting new platforms and experimenting with free offerings.
76% of US broadband households subscribed to an OTT video service in Q1 2020 while the churn rate for streaming services was 41%
Of the 41% of households that trialled at least one OTT service, the majority (69%) adopted at least one paid subscription
62% of US broadband households subscribed to a traditional pay-TV service
*Parks Associates- based on a survey of 10,000 U.S. broadband households as of the end of March.

Amid all this adoption growth Roku remains the dominant tv streaming platform in the US and represents the biggest potential growth driver for media companies in the market.
Roku added 2.9 million added accounts in the first quarter 2020 (Jan. 1 to March 31). It now has 39% market share (40 million) of connected TV devices in the U.S, including an estimated one-third of the connected TVs sold in the US and Canada that use Roku's interface.
Media consumption and the generational breakdown in the age of COVID-19
Interestingly, media consumption has differed across generational divides with millennials ( 26-40 years old) and Gen Xers (41-55 years old ) most willing to pay for streaming services they didn't have before the pandemic, while Gen Z ( 5-25 years old) prefers to stream music over video content, according to data from a Global Web Index.
Most are willing to pay for a new paid service
56% Millennials say they'd add a new paid service right now
44% Gen Xers say they'd add a new paid service right now
64% US adults max out at $30 for total SVOD out-of-pocket
Accelerated SVOD & AVOD
Many SVOD platforms have seen surges in new subscribers during the COVID-19 pandemic, with 80 percent of U.S. consumers subscribing to a paid streaming video service, according to Deloitte's latest Digital Media Trends Survey.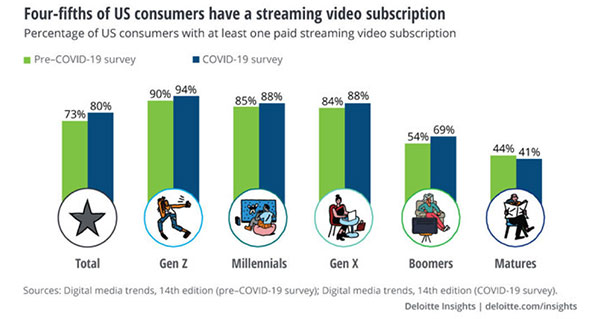 In this same period:
23% of consumers added a streaming video service subscription

Subscribers are now paying for an average of 4 services, up from 3 prior to the pandemic (Deloitte)

47% of U.S. consumers used at least one free AVOD service during COVID-19 as they sought "budget-friendly" entertainment (Deloitte)

Tubi (AVOD) viewing hours were up 100% in April 2020 (Tubi)

Disney Plus (SVOD) has nearly achieved its five year subscription goal within six months (Disney)

25% of subscribers say a free or discounted rate was a big factor in choosing a paid streaming video service (Deloitte)
However, churn is still a factor 7% of subscribers canceled a paid service because of high costs , and expiring discounts and free trials were the top reasons for cancellation.
Overall more U.S. consumers want access to cheaper, ad-supported streaming video options, both before (62 percent) and since the COVID-19 pandemic (65 percent), while 35 percent of consumers will pay to avoid ads, according to the Deloitte study.
Preparing for life after after-stay-at-home ends
The number of cord-cutter and cord-never households will total 48.9 million this year and will grow to 61.5 million in 2023.
The number of cord-cutter and cord-never households will total 48.9 million this year and will grow to 61.5 million in 2023.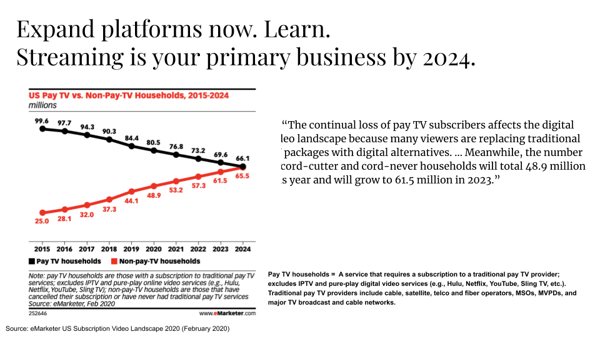 The OTT market is set to reach $167 billion in revenue by 2025, which is double the revenue of 2019 at $83 billion. An estimated $16 billion to be added in 2020 alone, according to data from Digital TV Research.
The breakdown: SVOD will continue to dominate the OTT market with its share of revenue set to stay at around 58%. That means we will see a $50 billion increase in revenue between 2019 and 2025 to a total of $98 billion.
Amid the accelerated pace of OTT adoption in the US, the continued cord-cutter and cord-never trend, and the demonstrated growth indicators across platforms, connected TV presents tremendous opportunities for media companies to build upon.
And increased connected TV viewing isn't slowing as 'stay-in-place directives are being lifted.
A study by Nielsen shows in the first week of March, connected TV households spent a combined 2.7 billion watching TV and peaked at nearly 4 billion hours during the week of April 6-12, 2020, in the U.S.
Today those numbers hover around 3.5 billion hours per week, significantly higher than before the lockdowns began.
A few actionable steps you can take today to be prepared for tomorrow.
Grow your audience and start building user habits associated with your brand. Do this by collecting data to better understand user behaviors, trends and interactions with your content by employing a multi-device strategy:
TV is the prime vehicle for the lean back engagement - Nearly one-third of US broadband households cite a smart TV as their primary streaming video device. Integrating a video offering within the smart TV app ecosystem will help drive content discovery and creates an optimal user experience that better attracts, engages, and retains video customers.
Mobile is used to manage subscriptions - send push-notifications out to users to keep them active, and re-engage any whose engagement diminishes once the Stay-At-Home is lifted.
Grow your user-base by scaling your Connected TV and Connected Device platforms - reach viewers on the platforms they prefer in the living room. And if you're not on TV, now is the time to start.
Promote content and use a mix of behavioral analytics and PII (personally identifiable information) - make sure you're leveraging the top performers from your catalog. Refreshing existing footage to increase engagement and reengagement.
Additional sources:
EDO Analytics
Statista